Employer Branding?
Employer Believing!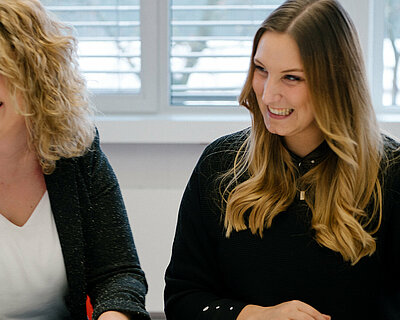 The days of brands are fortunately over. Employer branding is something that only partially describes the relationship between employees and the company at husare. We believe in confidence.

We are convinced that employees who feel the support of their company identify with it. This makes work more friendly, open and innovative. Employees dare more and are more likely to encounter new ideas, thus enabling them to fulfil their own aspirations for self-realisation.

If husare had to give itself a label, then perhaps rather: Employer Believing.
7 truths of a successful work balance
Culture …
... is neither dictated nor exemplified, it is generated together. A good corporate culture is a mixture of ambition and fairness. Sometimes this is a contradiction, often it comes with consequences. That means willing to perform, but not overbearing. Open, but not without criticism. In any case: communicative.

Team spirit …
... is fairly hard work often. As much as we like to have good-humoured, uncomplicated and empathetic people around us. We at husare appreciate unconventional thinkers and redrills. They bring everyone forward, question and solve the trickiest tasks. Always: As a team.

Motivation …
... is something that everyone brings from home in best case. We are convinced that smart people don't need to be constantly pushed. This is why no one at husare is greeted with a loud "Tschakka" in the morning. It has been proven that it is best to leave the distribution of tasks to engaged employees and to not stand in their way.

Openness …
... is one of the few things in our job that you cannot learn. The business of agencies is change. husare does not have a client who wants to leave everything as it is either. Change requires permanent openness. Especially for those who shape it. That's why curiosity is the most important fuel of all of us.

Flexibility …
... is often confused with permissiveness, but it means accommodation. You put together the best plan for a project - and then everything turns out differently. Anyone who despairs now will not get any further. The art is to stick to your goals and adapt the path to the new circumstances. That keeps you flexible and makes you feel good.

Innovation …
... is what everyone wants as a result. But rather few want to go down that road. Having an idea usually takes only a moment. Unfortunately, one does not know beforehand when this moment will come. That is why innovation is always a process of indefinite duration and with an unknown goal. At husare this willingness is strongly supported.

Further education ...
... is essential. Nobody is omniscient - and we are happy to expand our knowledge at all times. Preferably from co-workers here at husare. That is why we meet regularly at the internal husare academy. And take a little time to satisfy our curiosity. Whether it's about B2B + social media, image editing or memory training.

Work-life balance is an old hat.
The term originates from the time when there was still a clear separation between work and personal life. Does it still fit? And do we even want it?
Our workplace has many faces by now. We work from home or interrupt our agency work for a quick workout. Digital tools help us achieve spatial independence and better communication than ever before.
Isn't it self-evident that everyone should be able to balance work and personal life without too many guidelines? We help with this. That's for sure. husare encourages initiative and action based on responsibility and partnership. So, it is not a question of separation, but of a balanced approach to work. We call this work balance. Allowing life to be as individual as it is.
Home office is nothing new for us - and working hours based on trust are standard. And together we find the right balance.
Workplace for self-design
The fastest way to adapt work processes to new situations and to modernise workplaces: observe, think and try. At husare, this is a creative environment for the employees.
We live in a time in which things change on a weekly basis. We need to stay flexible, since new technologies get implemented regularly and customers or partners might want to change the general direction of their campaigns. husare wants to stay fast as a greaseless organisation. This is why we allow our employees to develop and try out new models of cooperation.
Working without a boss.
Only those who are really responsible for themselves will learn self-responsibility. Once a year, every employee is allowed to choose a project that he or she can push on without a supervisor. Only he or she will receive the laurels in the end. When things get tough, coaching.

Job swap.
In order to better judge the work of others, you need to know it. That is why every employee is allowed to swap jobs with his or her direct superior for one day. In this way, managers at husare stay closely involved in the day-to-day business and employees get an impression of what their superiors are doing.
Ask husare
"Is an agency job really something for the future?"
husare answers: "Absolutely! Although agencies have to change a lot in order to remain relevant for their clients in the future. But that also makes the current times very exciting. There has never been so much to discover and to immediately put into practice"
"I'd like to apply, but I don't think I can do it."
husare answers: "Do not be shy! Get in touch with us! A first conversation always helps. It provides feedback and an honest assessment. We don't bite and are happy about every new spontaneous application".
"How are the deadlines and the working hours?"
husare answers: "Evenings at your desk with a pizza box next to your keyboard? No, that is not the normal agency life with us. There are core working hours and we all make sure that they are followed. There can be exceptions. But they are really rare. And we compensate. husaren word of honour."
We always enjoy meeting great people
Impressions

Us